| | | |
| --- | --- | --- |
| Saitama Public Transpotation Information | | Visit Saitama, Japan! |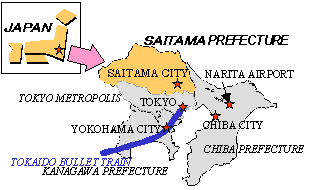 Due to COVID-19 infection prevention, operation suspension occured at most of expressway and Airport bus routes.
Topics
Update
Airport Bus Timetable
(From Narita and Haneda-Airport)
July 26,2020
Expressway Bus Timetable
(From Kyoto,Osaka,Nagoya, etc.)
Apr 11,2020
Saitama Major Bus Timetable
(Intercity,sightseeing-area bus etc.)
Apr 10,2021
How to ride Saitama Major Bus?

Nov 9,2020
Exp.Train + Exp.Bus Map
(Exp.Bus timetable available)
Apr 13,2020
Saitama Rail+Bus Map

May 4,2020
Sightseeing Area Map
(Kawagoe City Area etc.)
Apr 20,2020
---
*For more info of Saitama Pref, please visit Saitama Pref. official site
*This site is Mochi's private page,and there's no relationship with other organizations,and no responsibility for any loss by usage of this site.
*If you have comments on my site,please mail to Mochi(mail( at..mark)saiko.info)